Tiles
Shop for all kinds of tiles at Malford Ceramics. We believe that every home should have the opportunity to be tiled with decently priced good quality tile products. We realise that it is common to find home owners in Singapore compromise the design or quality of their tiles because of the issue of cost. We also know that in the process of cost cutting, several mistakes that might last forever become inevitable. However, at Malford, we ensure that every customer is a happy customer.
Tips on How to Choose Tiles
Choosing tiles is often seen as a daunting task. But we like to make it easy. Simply follow our guidelines for each location of your home and you should be on your way to completing the design of your dream home!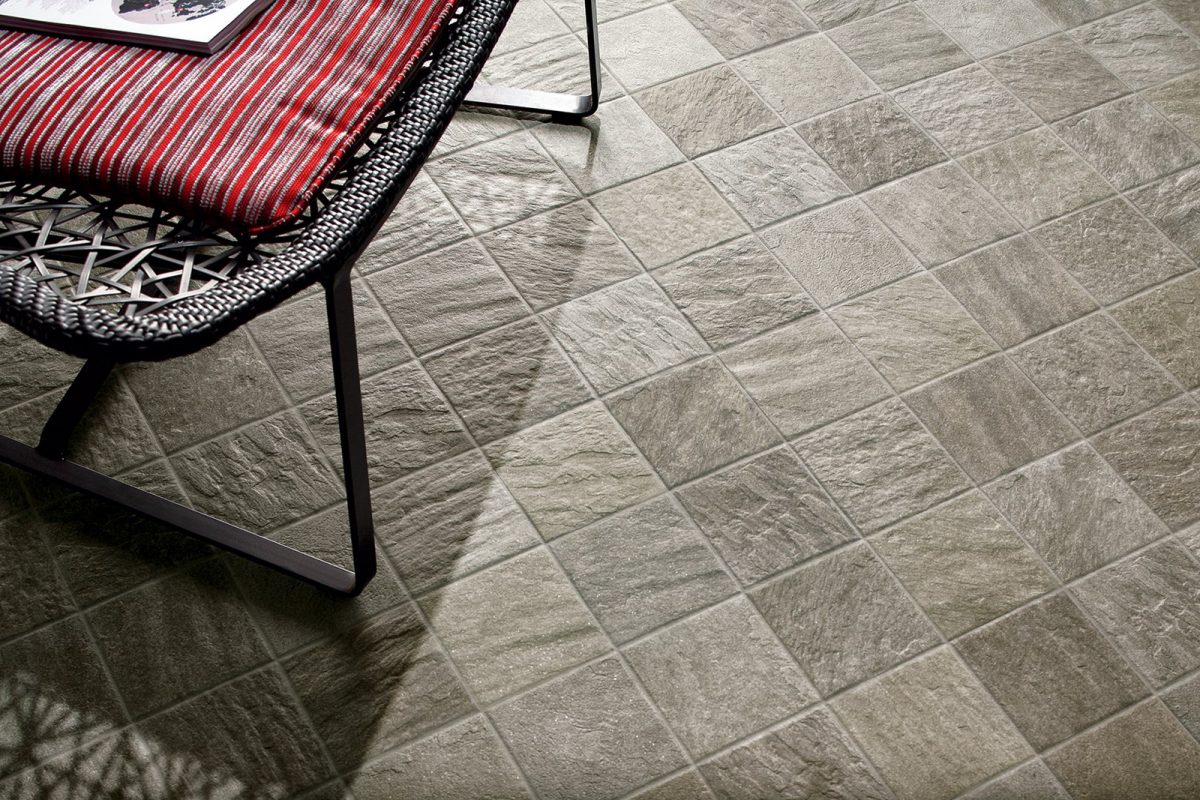 Car Porch, Balcony, and Back Yard
Recommended Design: A dark coloured stone looking tile would be perfect. Especially those with running colour variations. Such tiles look exactly like stone and staining does not look obvious when it happens.
Recommended Size: Anything smaller than 30 x 60 cm (e.g. sizes such as 15 x 15 cm and 30 x 30 cm are good). Contrary to popular belief, tiles are actually stronger than natural stone. However, do not use tiles that are too big for your car porch area. It is best to use smaller sizes so that the tiles will definitely be able to bear the vehicular load.
Recommended Surface: R11. A car porch is constantly exposed to rainfall and is an area that will be frequently washed and left wet. It is best to use a tile that is structured and rough. Should you be afraid of maintenance issues, consider an Italian tile with good stain resistant ratings.
Joint Width: We would recommend for you to use non-rectified tiles with a joint width of at least 3 mm. This allows some movement and will prevent the popping out of tiles.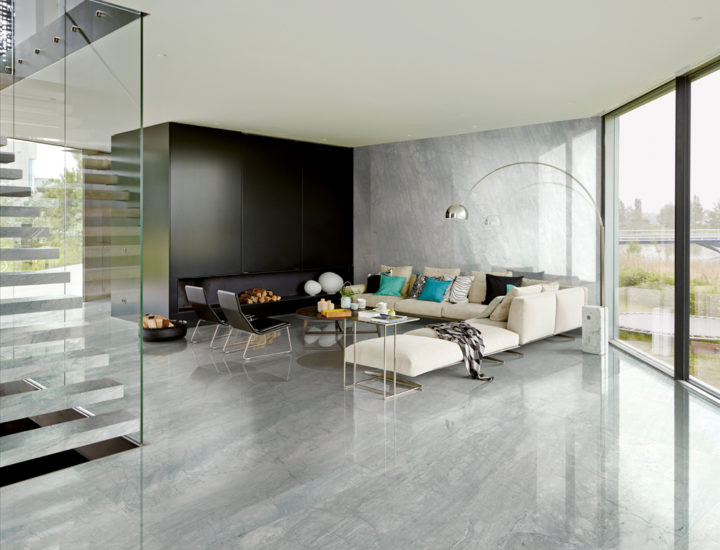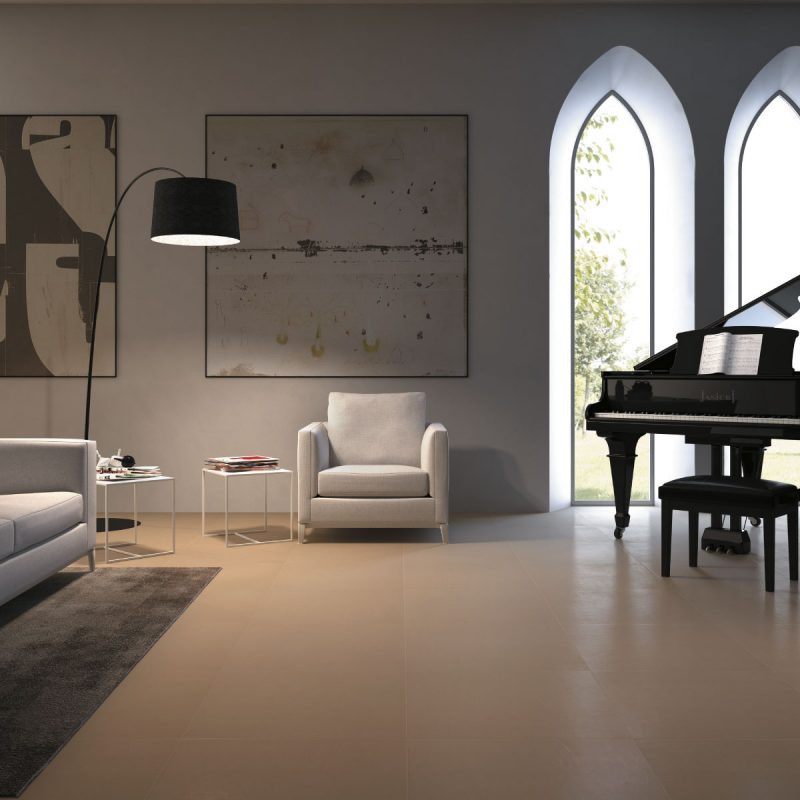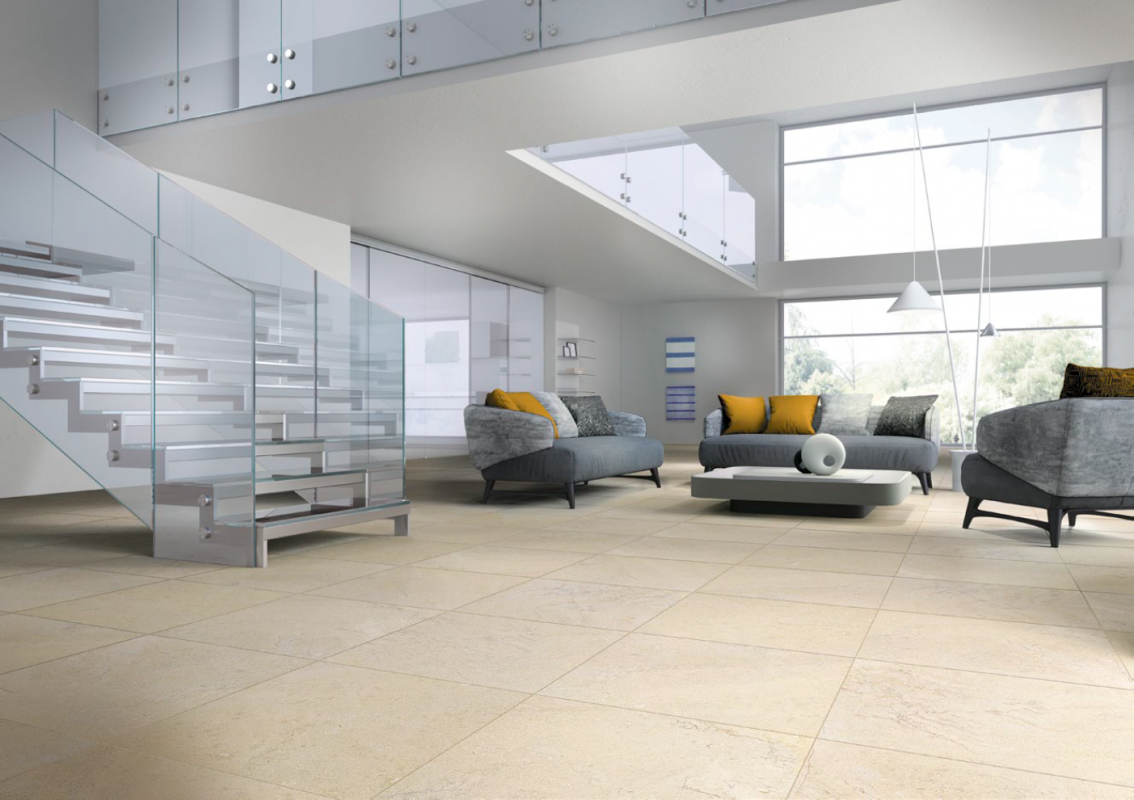 Living Room and Dining Room
Recommended Size: Bigger sizes are certainly more luxurious looking. Even a studio apartment would look good with bigger tiles that are at least 80 x 80 cm or 60 x 120 cm in size. Sizes that are your conventional 60 x 60 cm size are becoming outdated. Furthermore, smaller sizes result in your floors having more grout lines.
Recommended Surface and Design: Polished, Semi-Polished, or Matte R9. You would want something that is soft for the feet to touch. If you are going for an industrial chic type of style, a concrete looking matte tile would do the trick. Should you wish for something very luxurious, a polished marble looking tile in big sizes would be fantastic. If you prefer something more subtle, a semi-polished stone looking tile would be ideal.
Joint Width: Bigger tiles require a bigger joint width to combat warpage. Every tile, even from the best factories of the World, is fired at high temperatures. This results in the tile having a centre curvature. To combat this warpage, use a 2.5 mm joint width for tiles such as 80 x 80 cm or 60 x 120 cm. As this is an indoor area, larger joint widths are not easily accepted by home owners. Therefore, you should ensure that your tiles are rectified, and they do not run for more than 30%. Alternatively, slim tiles can eliminate your issue of warpage, and you can actually go for 1 to 1.5 mm joint widths regardless of size.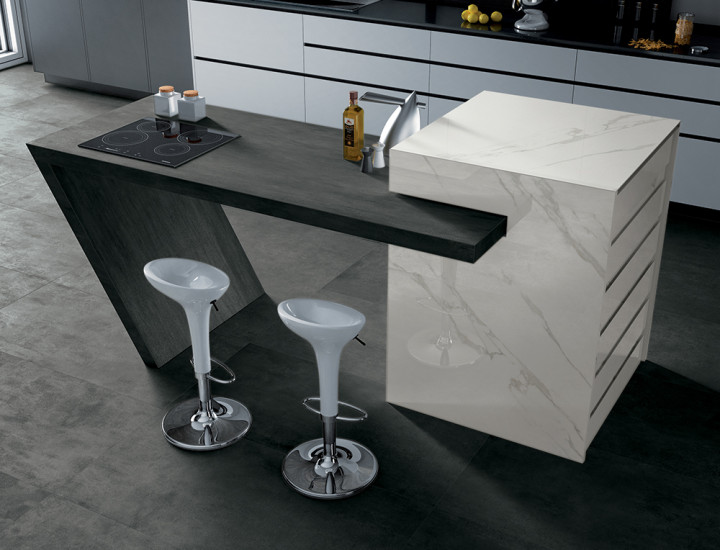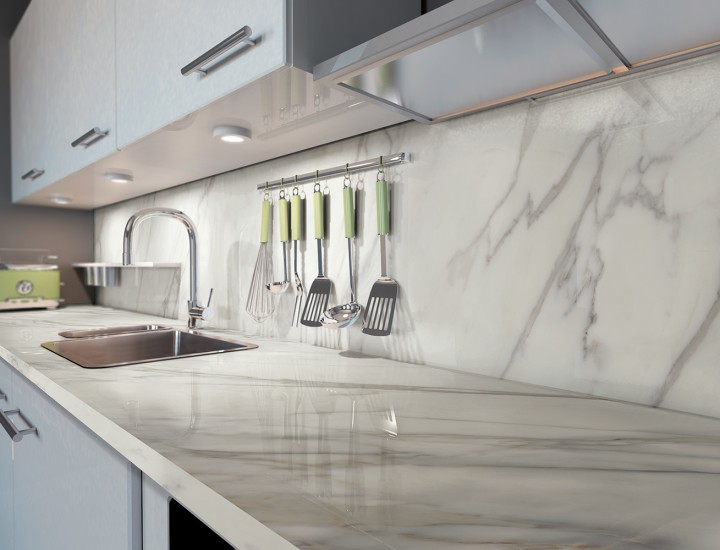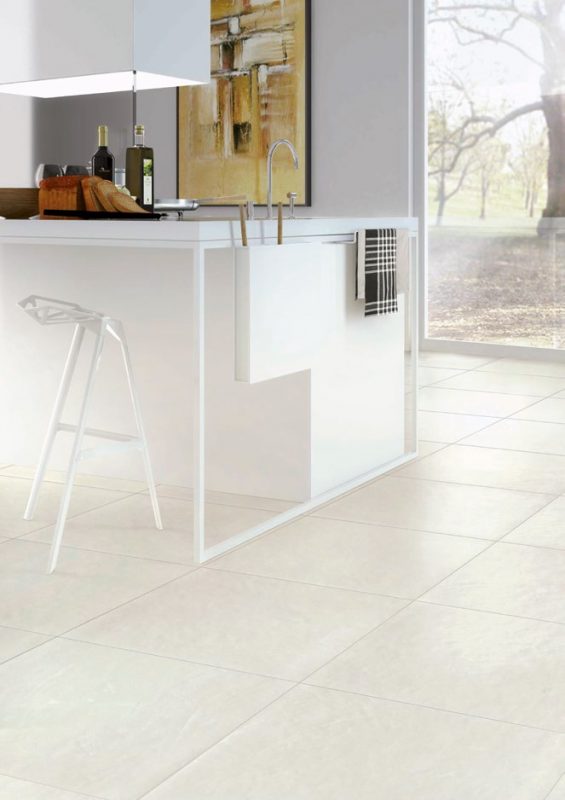 Wet Kitchen and Dry Kitchen
Must Have: Counter top cladded with large format porcelain slabs. They offer more beautiful designs than compressed quartz, and are more resilient at the same time.
Recommended Size: We recommend to follow the design of your living room. However, should you wish to have some segregation, using a 60 x 60 cm tile could be helpful as there would be many corners and edges due to the cabinets and carpentry. For kitchens that are very small, 30 x 60 cm may be a more practical size to reduce wastage and to prevent poor workmanship from being an issue.
Recommended Surface and Design: It is good to go for an R10 anti-slip finish for the wet kitchen floors. R10 anti-slip basically means that the tile is deemed as anti-slip when contaminated with water. It is also smooth enough to be easily cleaned when in contact with greasy impurities. Using a rougher tile is not advisable as scrubbing may be a chore after a session of cooking. For the walls of your kitchen, we would suggest for you to have them tiled with cheap ceramic wall tiles, or yo have them cladded with our large tile slabs. Having tiles on your wall facilitates easier cleaning.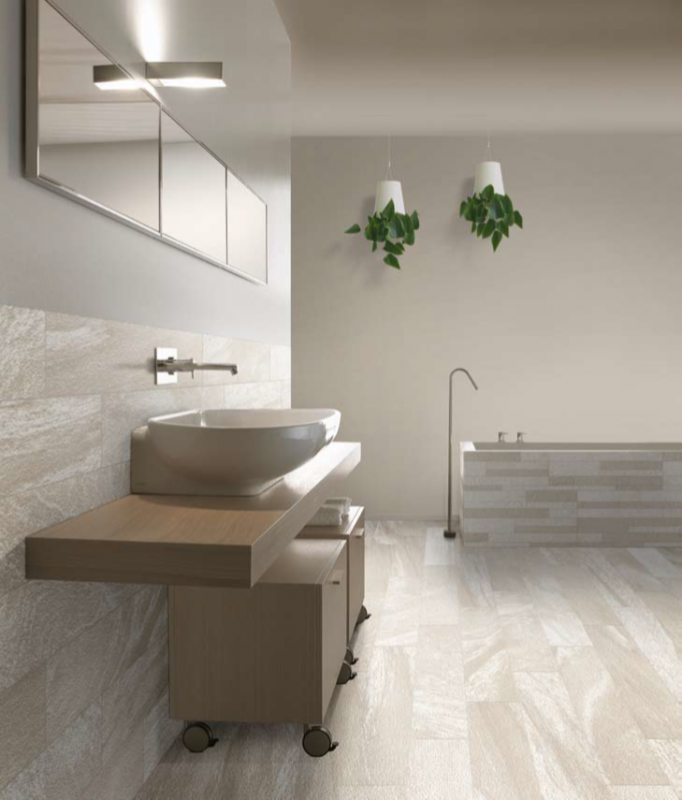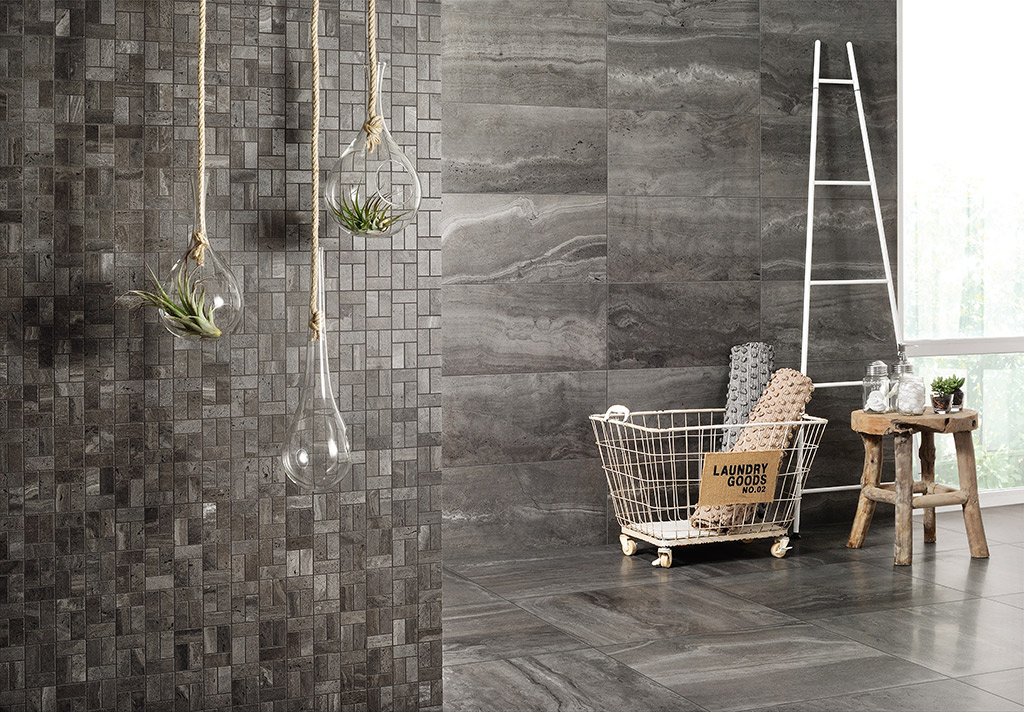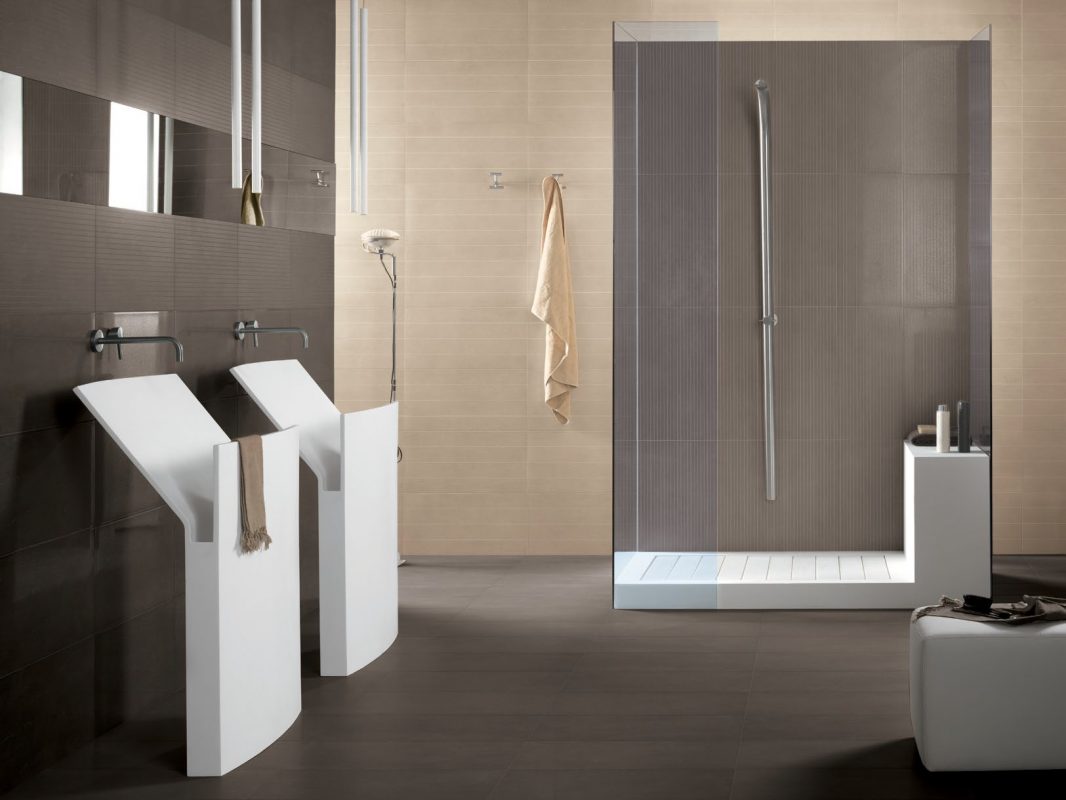 Toilets
Recommended Size: Most toilets in Singapore are small. We would recommend to go for 30 x 60 cm at the very largest for the floors, so that a gradient can be made for the floor trap. Large sizes are alright for the walls, and 30 x 30 cm would be recommended for the shower area floors as that small particular area may be difficult for inexperienced tilers to tile.
Recommended Surface and Design: An R10 is a definite requirement here. However, most home owners do not mind using a polished marble looking tile. This is because they want to replicate a high end hotel look, and they know that no one within the household will be running around crazily in the bathroom to be a risk.
Joint Width: This is a very important point. Do ensure that your wall tiles and floor tiles of your toilet are of the exact calibration. What do we mean by this? When a tile is marketed as a 30 x 60 cm tile, every factory regardless of country of origin has a definite working size. For example, Chinese factories usually have them at 299 x 600 cm, the Malaysians usually at 297 x 597 mm, and the Italians even at 295 x 595 mm. It is important to check this so that you can be sure the joints from your walls may meet the floors.